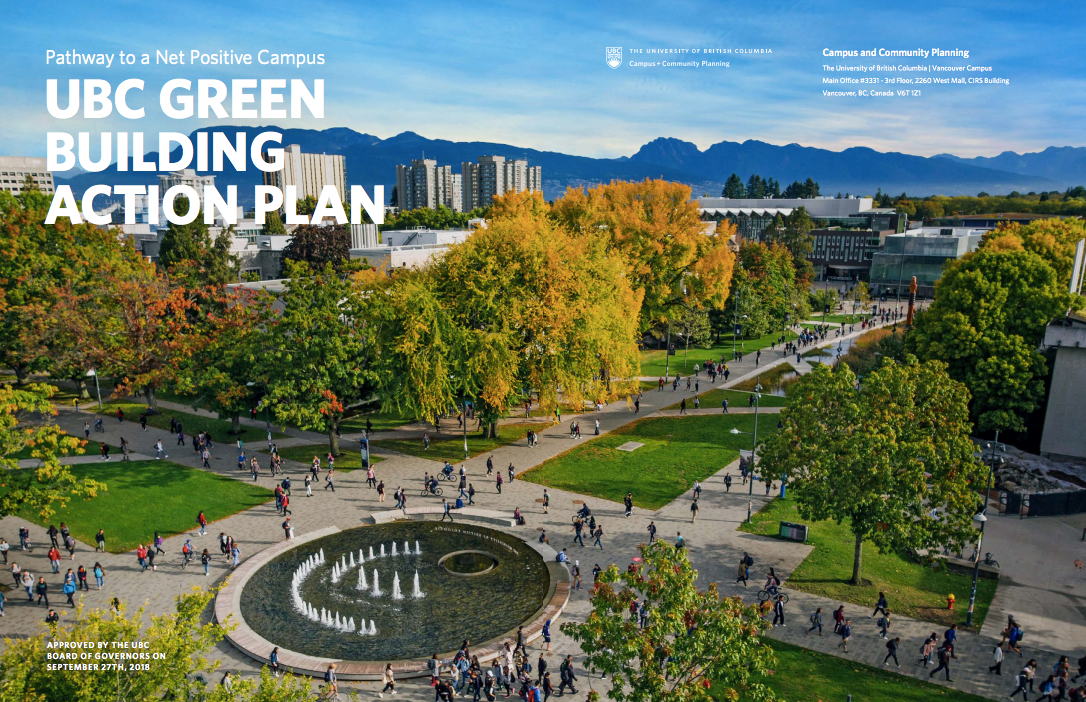 Starting from Fall 2017, I had the very exciting and unique opportunity to participate in envisioning the future of sustainable development at UBC through the Green Building Action Plan (GBAP) as a Research Assistant for UBC Campus and Community Planning.
"The University of British Columbia's (UBC's) Green Building Action Plan (GBAP) outlines a holistic pathway for academic and residential buildings at the UBC Vancouver campus to advance towards making net positive contributions to human and natural systems by 2035."
From Workplace to Classroom and Back
Participating in the writing, research, and organization of the Plan, not only gave me insight on the strategic planning process and regulatory functions of the Campus and Community Planning department, but also allowed me to investigate how all the different plans, strategies, and policies support the mission of sustainability on campus.
Learning about phenomena and theory from my geography studies like resilience and climate adaptation doesn't always have to happen through reading academic case studies in far off cities - it can start from looking out the window onto the campus we spend our daily lives at! This is something I've always wanted to explore more, and working on the Green Building Action Plan has shown me how policy decisions can translate into energy use reductions in buildings and the creation of landscapes that facilitate biodiversity.
My Role
To learn more about the GBAP, you can read a quick summary of the Plan's visions and an article on its connections to academic research that I wrote for the monthly Campus and Community Planning newsletter below:


I worked on the development of this plan for one year from Sept 2017 to Sept 2018! Here are a number of things I worked on in my role as Green Building Action Plan Research Assistant:
Co-authored the UBC Green Building Action Plan (GBAP) in collaboration with a team of architects, planners, engineers and researchers.
Edited the GBAP to ensure clarity and readability in the organization and wording of the plan for external audiences.
Identified and proofread priority actions to direct UBC staff to achieve net positive in areas of sustainability such as biodiversity, process, and building materials.
Assisted in a policy scan of guidance and gaps in existing UBC plans, strategies, policy, and committee bodies to inform the development of the GBAP.
Wrote articles for the monthly Campus and Community Planning newsletter to explain the vision of the GBAP and highlight the Plan's connections to research and learning on campus for a general audience.
Edited graphics for the GBAP using Adobe Illustrator.

Now that the Green Building Action Plan is published, I look forward to working on the implementation of actions in the plan and learning about the ongoing sustainability initiatives on campus as a staff, student, and member of the UBC community.