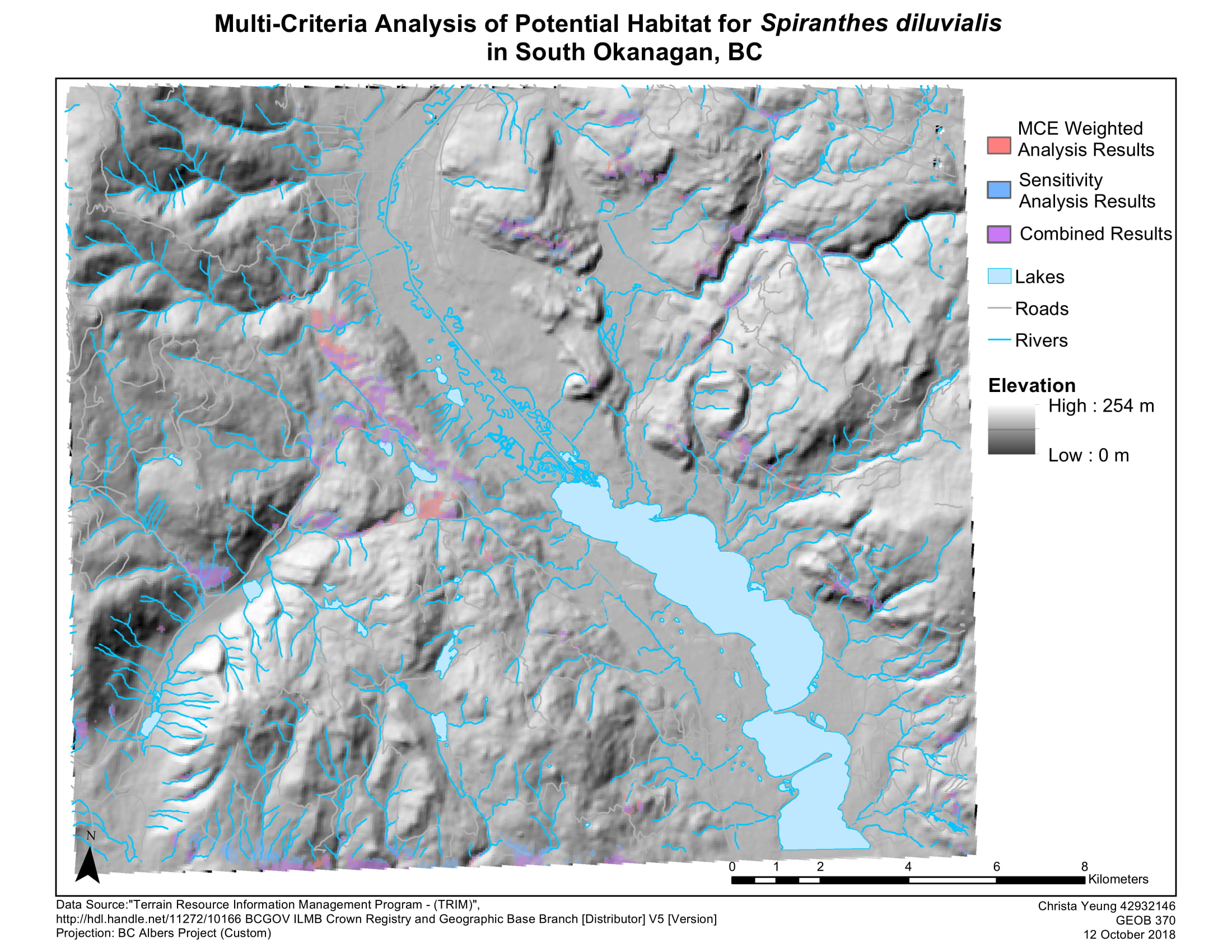 This week, I have been tasked to identify and produce a report on a rare plant species, Spiranthes diluvialis, to help a hypothetical botanist with her field work in the southern Okanagan. According to the botanist's literature review, this plant prefers low-slope, mid-elevation areas with a southern aspect. Using this knowledge, I have used a multi-criteria evaluation methodology to map out ~700 hectares of potential habitat to direct her search.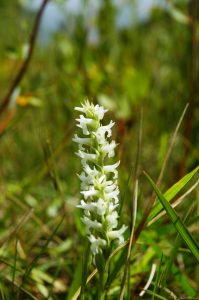 Spiranthes diluvialis is a rare species of orchid known as Ute lady's tresses (also, Ute ladies'-tresses). The species name diluvialis means "of the flood". It is native to the western United States, where there are scattered, mostly small occurrences in the states of Colorado, Idaho, Montana, Nebraska, Nevada, Utah, Washington, and Wyoming. An occurrence was recently discovered in southern British Columbia. The plant faces a number of threats to its existence. It is a federally listed threatened species of the United States.
Report of Potential Habitat Analysis for Spiranthes diluvialis in Southern Okanagan, BC
Using multi-criteria analysis, this map displays 700 hectares of potential habitat for Spiranthes diluvialis in southern Okanagan. Multi-criteria analysis is a form of GIS analysis that weighs and computes "factors" such as slope, elevation, and aspect so that the potential habitat that meet all three characteristics can be identified.
Methodology
To start this analysis, I have used Terrain Resource Information Management (TRIM) data provided by the BC government to first create a TIN (Triangulated Irregular Network) which recreates the topographic surface of the southern Okanagan, taking into account elevation point data, rivers and lakes, and roads.
From here, a raster-based digital elevation model (DEM) is created from the TIN. A digital elevation model provides the basis to create our other factors, slope, and aspect, both of which are calculated using tools in the ArcGIS program.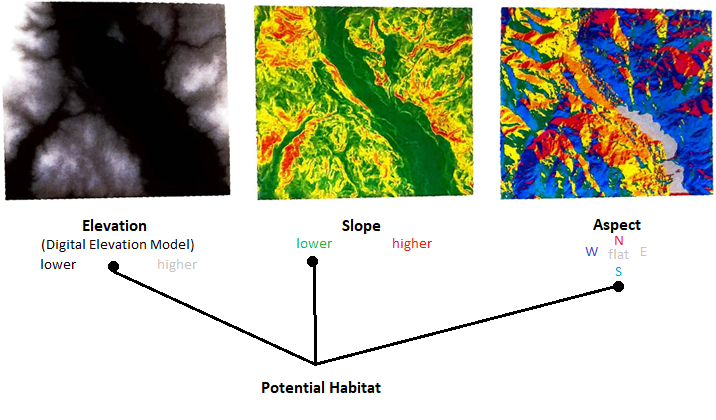 Based on the review of literature, we know that Spiranthes diluvialis prefers mid-elevation, low-slope, and areas with a southern aspect, and the areas that meet these combined criteria will be suitable potential habitats. To narrow down the existing three factors and pinpoint the suitable conditions, I have normalized the elevation, slope, and aspect values to a common scale of 0 — the least favourable to 1 — the most favourable using the ArcGIS Fuzzy Membership function so that I can begin to compare them. Next, I determined the weight, meaning how much each factor matters in relation to the others, using the http://www.123ahp.com site. This site calculates the weights of factors through an Analytic Hierarchy Process (AHP) wherein elevation, slope, and aspect are ranked on a numerical scale.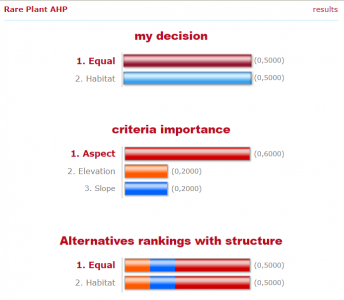 These numerical ranking values were then computed in ArcGIS toproduce the red "MCE Weighted Analysis Results" areas on the map. The MCE (Multi-criteria evaluation) Weighted Analysis Results display potential habitats in which aspect is weighed as a slightly more important factor than elevation and slope which have equal weight. However, what if another set of weights are used? To test this out, a sensitivity analysis was also conducted and is shown in blue. These results show potential habitats wherein all three factors are equally weighed and display the impact of different weights on the location and size of potential habitats. Areas of overlap between MCE Weighted Analysis and Sensitivity Analysis are displayed in purple and are the most accurate potential habitats as they are determined to be favourable despite fluctuations in weight.
Conclusion
To summarize, the total area of potential habitats for each type of analysis is the following:

I recommend that you survey areas where the MCE weighted analysis and sensitivity analysis overlap such as the purple areas pictured in the top image.
HERE ARE SOME SKILLS I PICKED UP IN SUMMARY
Conducted a multi-criteria evaluation analysis to determine the potential habitat for a rare plant species, Spiranthes diluvialis in southern Okanagan, BC.
Created a Triangulated Irregular Network (TIN) and Digital Elevation Model (DEM) using BC TRIM data to analyze the topography of the area of focus.
Wrote a one-page report to concisely summarize the methodology, findings, and conclusions of the multi-criteria evaluation directed to researchers